Hangzhou Dryair Treatment Equipment Co.,Ltd was reformed from State owned institue in 2004.By cooperating with Zhejiang University, and adopting the NICHIAS/ PROFLUTE dehumidification rotary, our company is engaged in professional research, development, production and sales of various rotary desiccant systems.  A series of environmental protection equipment developed by our company has been widely and maturely applied in many industries, which has been recognized and praised by customers .
HZDryair's customers are widely spread all over the world,which mainly concentrate on below industries:Lithium Battery、Biological Medicine、Food Manufacturing.
WORKING PRINCIPLE OF HZDRYAIR DESICCANT DEHUMIDIFIERS:As shown in the figure, the motor drives the desiccant wheel to rotate 8 to 12 times per hour, and repeatedly absorbs humudity through a reactivation action to provide dry air. The desiccant wheel is divided into process area and reactivation area; after the humudity of the air is removed in the process area ofthe wheel, the fan sends the dry air into the room.The wheel having absorbed water rotates to the reactivation area, and then reactivation air (hot air) issent over the wheel from the reverse direction,expelling the water, so that the wheel can continue to work.
The regenerated air is heated with either steam heaters or electric heaters. Due to the special properties of super silicone gel and molecular-sievein the desiccant wheel, DRYAIR dehumidifiers can realize continuous dehumidification under largeamounts of air volume, and meet the requirements of very low humudity content. DRYAIR dehumidifiers excellent performance is even better manifested in low humidity environment. To maintain stable temperature of the dry air, it is advisable to cool down or heat up the dehumidified air by installing air-conditioning equipment or a heater.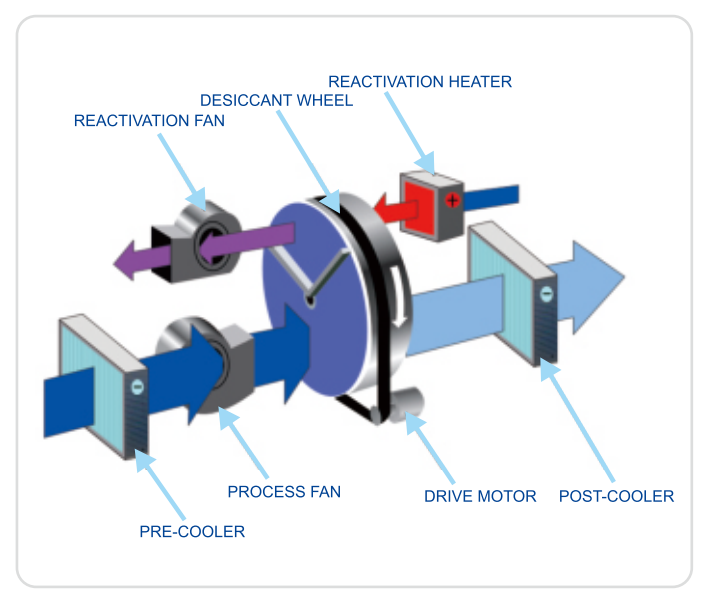 ---
Post time: Sep-05-2023