Modes of Dehumidification: 
1. Cooling dehumidification
The air is cooled to below the dew point, and then the condensed water is removed.
This method is effective under the condition that the dew point is 8 ~ 10 ℃ or more.
2. Compression dehumidification
Compress and cool the moist air to separate the moisture.
This method is effective when the wind volume is small but not suitable for the conditions of large wind volume.
3. Liquid absorption dehumidification
Lithium chloride solution spray is used to absorb moisture.
The dew point can be reduced to -20 ℃ or so, but the equipment is large, and the absorption liquid must be replaced.
4.Wheel-type desiccant dehumidification
The ceramic fibers of impregnated porous hygroscopic agents are processed into honeycomb-like runners for ventilation.
The dehumidification structure is simple, which can reach -60 ℃ or less through special combination of dew points.
This is the method used by Jierui.
NMP stands for N-Methyl-2-Pyrrolidone
Since NMP has high boiling point and low steam pressure under normal temperature, it can be easily condensed by cooling below normal temperature. According to the formula of Antoine, By means of its characteristic, recovery of NMP can be conducted by cooling( provided that water recovery amount is increased if dryer exhaust gas contains more water).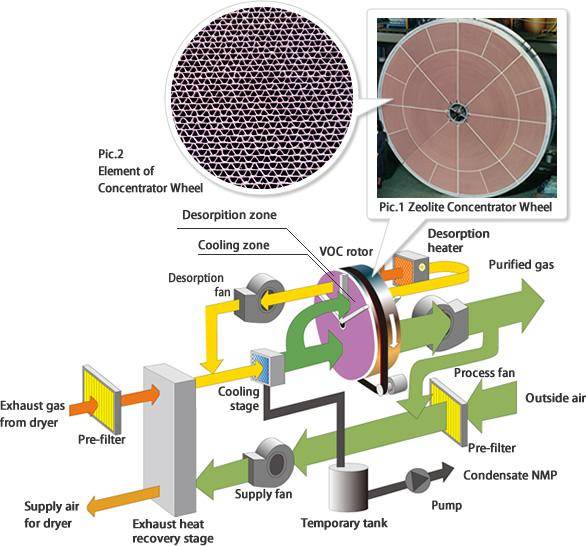 Advantages of VOC concentration rotors:
1.High performance & efficiency
Using High silica zeolites and activated carbons with enormous adsorption capacity allows our VOCconcentrator to flexibly treat various kinds of VOCs and work under different conditions of operation.
2.Capability of treating VOCs with high boiling point
Carbon material has a difficulty to treat VOCs with high boiling point due to its desorption temperature limit. In contrast, the characteristics of our zeolite rotors are incombustible and high heat resistance, which enables our VOC concentrator to use the adsorption air with high temperature.
3.Inertness
  VOC easily polymerized by heat energy (e.g. styrene, cyclohexanone, etc) can be effectively treated    by High-Silica zeolite.
4.Cleanability & activation by special heat treatment
Our zeolite rotors through calcining process have come to all inorganic material including the adhesive. Clogging in the rotor element might occur after a certain period of use.But, don't worry!! The rotor is washable in a proper manner to remove accumulated dust.It's even better that our zeolite rotor can be reactivated by heat treatment according to circumstances.
Typical Applications of VOC concentration rotors:
Industry

Possible Facility/Product line subject to VOCs control

Treated VOCs

Automotive/Parts manufacturer

Painting booth

Toluene, Xylene,Esters, Alcohols

Steel furniture maker

Painting booth, Oven

Printing

Dryer

Adhesive/Magnetic tape manufacturer

Coating process, Cleaning unit

Ketones, MEK,Cyclohexanone, Methylisobutylketones, etc.

Chemicals

Oil refinery, Reactor

Aromatic hydrocarbons, Organic acids, Aldehydes, Alcohols

Synthetic resin/ Glue Maker

Plastics,Plywood manufacturing process

Styrene, Aldehydes, Esters

Semi-conductor

Cleaning unit

Alcohols, Ketones, Amines
Useful dew point conversion table:
| | | | |
| --- | --- | --- | --- |
| °Cdp | g/kg | °Fdp | gr/lb |
| -60 | 0.0055 | -76 | 0.039 |
| -59 | 0.0067 | -74.2 | 0.047 |
| -58 | 0.008 | -72.4 | 0.056 |
| -57 | 0.0092 | -70.6 | 0.064 |
| -56 | 0.0104 | -68.8 | 0.073 |
| -55 | 0.0122 | -67 | 0.085 |
| -54 | 0.0141 | -65.2 | 0.099 |
| -53 | 0.0159 | -63.4 | 0.11 |
| -52 | 0.0178 | -61.6 | 0.12 |
| -51 | 0.02 | -59.8 | 0.14 |
| -50 | 0.024 | -58 | 0.17 |
| -49 | 0.027 | -56.2 | 0.19 |
| -48 | 0.03 | -54.4 | 0.21 |
| -47 | 0.034 | -52.6 | 0.24 |
| -46 | 0.039 | -50.8 | 0.27 |
| -45 | 0.043 | -49 | 0.3 |
| -44 | 0.047 | -47.2 | 0.33 |
| -43 | 0.054 | -45.4 | 0.38 |
| -42 | 0.061 | -43.6 | 0.43 |
| -41 | 0.068 | -41.8 | 0.48 |
| -40 | 0.076 | -40 | 0.53 |
| -39 | 0.086 | -38.2 | 0.6 |
| -38 | 0.097 | -36.4 | 0.68 |
| -37 | 0.11 | -34.6 | 0.77 |
| -36 | 0.122 | -32.8 | 0.85 |
| -35 | 0.137 | -31 | 0.96 |
| -34 | 0.151 | -29.2 | 1.1 |
| -33 | 0.168 | -27.4 | 1.2 |
| -32 | 0.186 | -25.6 | 1.3 |
| -31 | 0.21 | -23.8 | 1.5 |
| -30 | 0.23 | -22 | 1.6 |
| -29 | 0.25 | -20.2 | 1.8 |
| -28 | 0.28 | -18.4 | 2 |
| -27 | 0.31 | -16.6 | 2.2 |
| -26 | 0.35 | -14.8 | 2.5 |
| -25 | 0.38 | -13 | 2.7 |
| -24 | 0.43 | -11.2 | 3 |
| -23 | 0.47 | -9.4 | 3.3 |
| -22 | 0.52 | -7.6 | 3.6 |
| -21 | 0.57 | -5.8 | 4 |
| -20 | 0.63 | -4 | 4.4 |
| -19 | 0.69 | -2.2 | 4.8 |
| -18 | 0.76 | -0.4 | 5.3 |
| -17 | 0.84 | 1.4 | 5.9 |
| -16 | 0.93 | 3.2 | 6.5 |
| -15 | 1.01 | 5 | 7.1 |
| -14 | 1.11 | 6.8 | 7.8 |
| -13 | 1.22 | 8.6 | 8.5 |
| -12 | 1.33 | 10.4 | 9.3 |
| -11 | 1.45 | 12.2 | 10.2 |
| -10 | 1.6 | 14 | 11.2 |
| -9 | 1.74 | 15.8 | 12.2 |
| -8 | 1.9 | 17.6 | 13.3 |
| -7 | 2.1 | 19.4 | 14.7 |
| -6 | 2.3 | 21.2 | 16.1 |
| -5 | 2.5 | 23 | 17.5 |
| -4 | 2.7 | 24.8 | 18.9 |
| -3 | 2.9 | 26.6 | 20.3 |
| -2 | 3.2 | 28.4 | 22.4 |
| -1 | 3.5 | 30.2 | 24.5 |
| 0 | 3.8 | 32 | 26.6 |
| 1 | 4 | 33.8 | 28 |
| 2 | 4.3 | 35.6 | 30.1 |
| 3 | 4.7 | 37.4 | 32.9 |
| 4 | 5 | 39.2 | 35 |
| 5 | 5.4 | 41 | 37.8 |
| 6 | 5.8 | 42.8 | 40.6 |
| 7 | 6.2 | 44.6 | 43.4 |
| 8 | 6.6 | 46.4 | 46.2 |
| 9 | 7.1 | 48.2 | 49.7 |
| 10 | 7.6 | 50 | 53.2 |
| 11 | 8.1 | 51.8 | 56.7 |
| 12 | 8.7 | 53.6 | 60.9 |
| 13 | 9.3 | 55.4 | 65.1 |
| 14 | 9.9 | 57.2 | 69.3 |
| 15 | 10.6 | 59 | 74.2 |
| 16 | 11.3 | 60.8 | 79.1 |
| 17 | 12.1 | 62.6 | 84.7 |
| 18 | 12.9 | 64.4 | 90.3 |
| 19 | 13.7 | 66.2 | 95.9 |
| 20 | 14.6 | 68 | 102.2 |
| 21 | 15.6 | 69.8 | 109.2 |
| 22 | 16.6 | 71.6 | 116.2 |
| 23 | 17.7 | 73.4 | 123.9 |
| 24 | 18.8 | 75.2 | 131.6 |
| 25 | 20 | 77 | 140 |
| 26 | 21.3 | 78.8 | 149.1 |
| 27 | 22.6 | 80.6 | 158.2 |
| 28 | 24 | 82.4 | 168 |
| 29 | 25.5 | 84.2 | 178.5 |
| 30 | 27.1 | 86 | 189.7 |
| 31 | 28.8 | 87.8 | 201.6 |
| 32 | 30.5 | 89.6 | 213.5 |
| 33 | 32.4 | 91.4 | 226.8 |
| 34 | 34.4 | 93.2 | 240.8 |
| 35 | 36.4 | 95 | 254.8 |
| 36 | 38.6 | 96.8 | 270.2 |
| 37 | 40.9 | 98.6 | 286.3 |
| 38 | 43.4 | 100.4 | 303.8 |
| 39 | 46 | 102.2 | 322 |
| 40 | 48.7 | 104 | 340.9 |
| °Cdp | g/kg | °Fdp | gr/lb |